Rebar for Crafts

Metal Construction Rods have many uses in Rustic Crafts

Jacki Cammidge is a participant in the Amazon Services LLC Associates Program, an affiliate advertising program designed to provide a means for sites to earn advertising fees by advertising and linking to amazon.com. Other links on this site may lead to other affiliates that I'm involved with, at no extra cost to you.

Using rebar for crafts is an exercise in thinking outside the box.
Reinforcing rod, or rebar, was developed to strengthen concrete and provide support internally. As a way to anchor a project such as a fence, pergola or other built item, it's the best.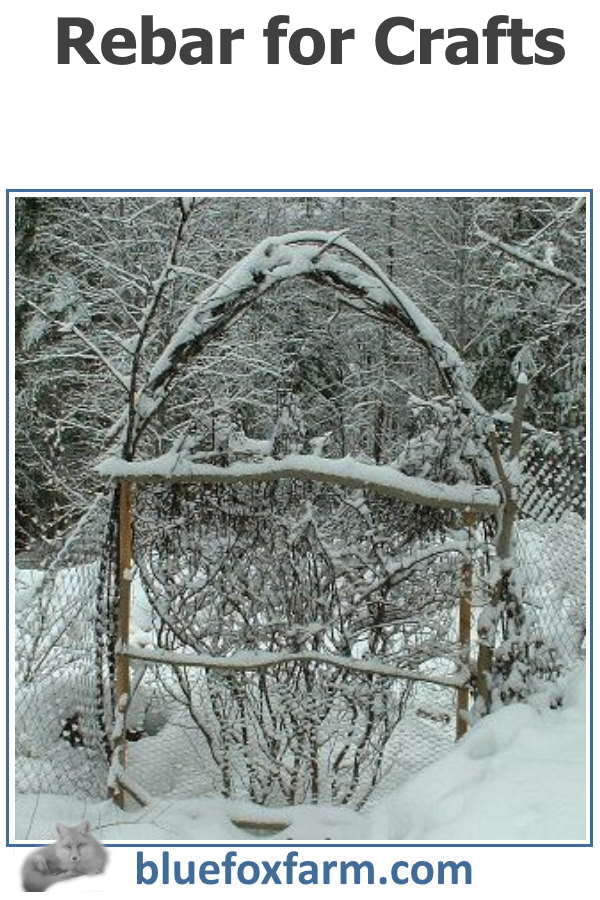 A short piece of rebar around 60cm (2') long can be easily pounded into the ground with a hammer (using safety glasses and gloves, of course).
You can drill holes into the center of a post and insert that right over the rebar, or wire your project on to anchor it.
Bending rebar for rustic garden archways is easier than you'd think.
Rebar is just a soft metal called pig iron, made from scrap metal for the most part.
It comes in lengths of up to 7 meters (22'), which when used in housing construction, can be easily cut into pieces to lay into the trench when pouring concrete.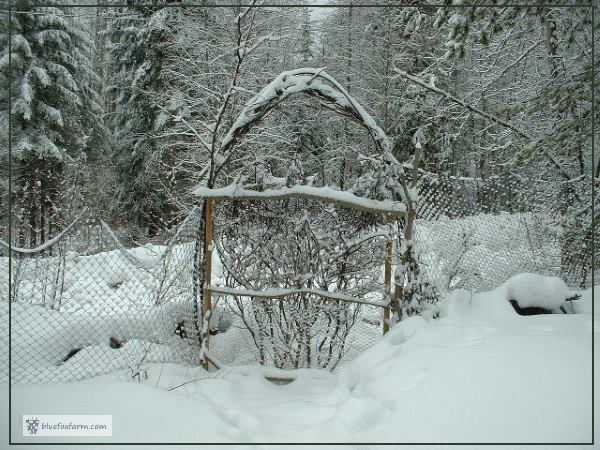 It provides strength to footings and foundations.
With this length of rebar you will have to pay a little for delivery from the lumber yard as this won't fit in just any old pick up truck.
When I'm using rebar for rustic archways, the easiest way to bend rebar to the right shape (round topped arches, not gothic shaped with a point) I try and find a helper who can follow instructions.
If you have two helpers, that's even better.
Everyone should wear gloves and old clothes as the rust and manufacturing oil will come off on everything, and sometimes there are sharp edges.
One person should be in the middle, holding the 7 meter (22') length of rebar at the center. If you only have one helper, use a picnic table or other similar item to hold the center off the ground and level.
One person will hold an end, and then gradually move towards each other. The rebar is soft, and will bend. Be careful not to kink it, as this will affect the finished arch.
Once you have the correct bend, stand the arch up in the place you want to install it.
Using a short piece of rebar, make a pilot hole in the ground about 30cm (1') deep, then stick one leg in, and then repeat for the other side.
Your arch will be around 2.3meters (7' 6") tall, enough for a tall person with room for training a vine over it.
Your first few arches may be a little lopsided, but with practice you can make perfect archways.
Make a tunnel, with several in a row connected with some long branches, and train clematis or other vines up and over. Eventually, it will be totally covered with flowers or foliage.
A weeping larch or spruce tree can be twined over the archway, or simply cover it with twigs.
If you train a tree over the archway, use strips cut from an old t-shirt, and remove them every year to prevent them from constricting the bark.
The dark rust colour of the rebar will blend in to any garden, becoming almost invisible.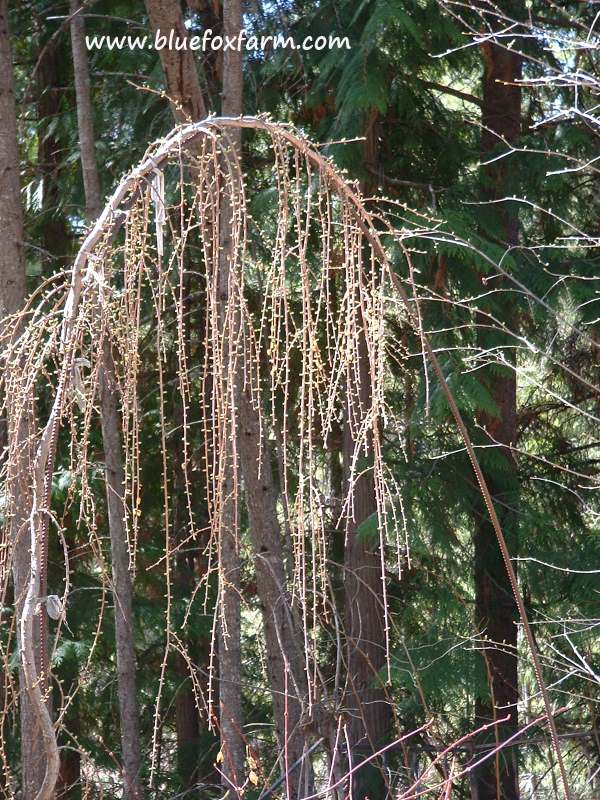 Weeping larch makes the perfect tree to attach to a rebar archway - it's tied on in several places with old t-shirt fabric which is moved every year to prevent it from strangling the tree.
Rebar can be found in most hardware stores, or online.  I was lucky enough to find it in full lengths of 22', quite often it's been cut into shorter lengths to make it easier to ship.

If you only need the shorter lengths, you can find
Steel Rebar
at my affiliate.
One day, I'll buy me a bender like this one maybe:

8.0-Amp Portable Variable-Speed Rebar Cutter / Bender
Or one that doesn't cost so much, as I'm usually on a budget, like one I found here;

SDT Handheld Hydraulic Rebar Cutter fits 1/4" - 3/4" 4mm-22mm 3 #4 #5 #6
Still too pricey?  Here's one that is within every budget;

Bon 12-433 3-Pin Rebar Bender
And of course, you can never have too much tie wire. This kind of wire is my all time favorite. Since I discovered it and how nicely it rusts (perfect for my kind of crafts) I rely on it almost exclusively. Here is some economical and easy to find
ReBar Tie Wire
.
Learn what it takes to be creative - we all have the gene but how do we develop it? Get the free guide!
Fill in the form below for your copy;
(Don't be disappointed - use an email address that will accept the free download - some .aol email addresses won't. 
If you don't see your download within a few minutes, try again with another email address - sorry for the bother.)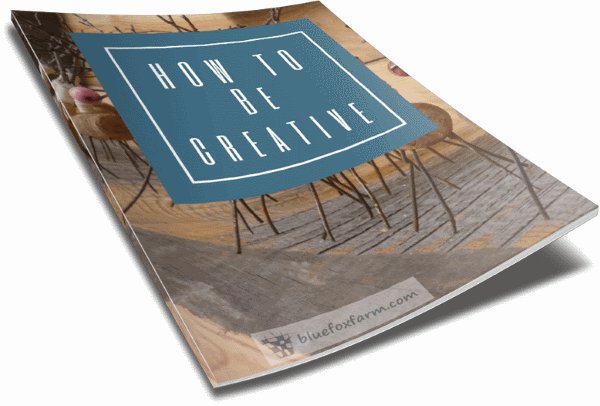 ---