Hypertufa Projects

What to Make, and How, With Hypertufa

Jacki Cammidge is a participant in the Amazon Services LLC Associates Program, an affiliate advertising program designed to provide a means for sites to earn advertising fees by advertising and linking to amazon.com. Other links on this site may lead to other affiliates that I'm involved with, at no extra cost to you.

As one of the most rustic and rugged crafts you can imagine, hypertufa has taken the gardening world by storm.
There are many recipes used for hypertufa projects, and most work very well to make a rustic hypertufa trough, functional (or plantable) hypertufa bird bath, and many hypertufa pots for your favorite hardy succulents.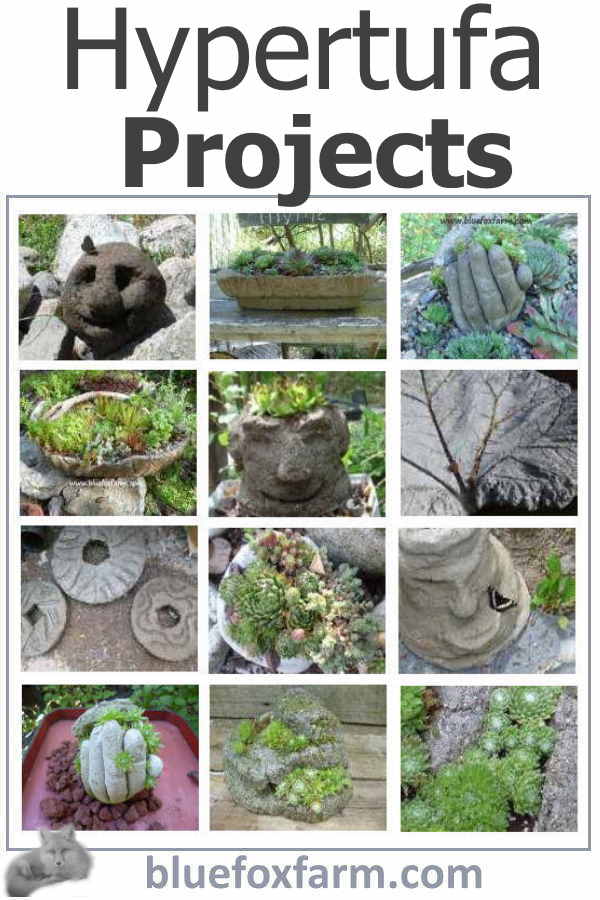 This mixture of cement powder, peat moss, sand and perlite is an easy choice for hypertufa projects that pay big dividends in the garden when you plant the result with some great garden plants.
Display them on a rustic bench or potting table for an eclectic grouping, along with some twig planters, terracotta clay pots or other containers.
Fill with succulent plants, top with some lava rock or pebbles to hold the soil in place, and voila! Rustic country garden decor.

Hypertufa projects run the gamut from tiny jewel like pinch pots to troughs and paving stones.
See more about making hypertufa pinch pots; these gemlike planters are so appealing and unique, planted with a grouping of tiny hardy succulents, which thrive in the great drainage and seem to relish the 'tooth' of the rough surface.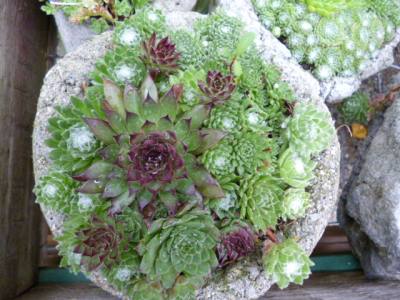 Many garden accents can be made with this rustic form of faux rock, and aged with a mixture of sheep manure and buttermilk to promote the formation of moss and lichen; they are indistinguishable from the real thing.
See this page for more ways of how to make hypertufa look old.
Hypertufa is actually derived from the real rock, called 'tufa', a soft limestone that many alpine plant specialists have used for years as a planted focal point for succulents and other rock garden plants.
Realizing the potential for making other containers and troughs for their favorite plants, they devised a method and many recipes to make their own hypertufa.
Planted with rare hardy succulents such as Rosularia, Jovibarba and Orostachys, as well as other tiny alpine plants they make special displays for your xeric garden.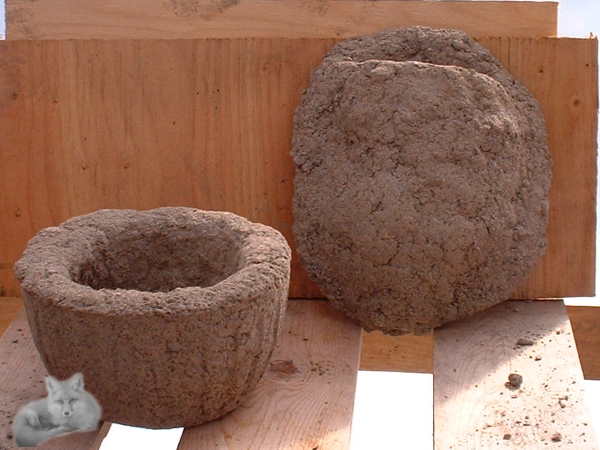 See these pages for more information on making your hypertufa project:
For my garden, I can't think of a better style of container material than hypertufa.
Somehow, it goes together with hardy succulent plants like a hand in a glove, and with a match like that, you can't ever have enough planters, troughs or pinch pots made from hypertufa.
Is Hypertufa on your Mind?
Do you dream in mud? Like to make unique and rustic containers, pots and accents for your garden? Share it!
Get Inspired...
...see what other artisans are building with hypertufa...

You might need these supplies;

Check out these Hypertufa Projects: