Rustic Country Garden Decor

Treasures from the Thrift Store, Auction or Flea Market

It's nice to find a way of displaying your treasures from garage sales and flea markets in your home.  If you're like me, you're most proud of those salvaged bits and pieces that mean something.  I really like the ones that almost got away best.

Natural materials combined with simple design and accent pieces along with rustic elements are a great way to give your country home a rustic feel.
Seasonal decor at the front door, using window boxes made of unfinished wood and planted with some favorite flowers and made to look like fairy gardens is a great place to start uncovering unique ways to add rustic style.
The thrift store and flea markets are awesome sources for decorative figurines and other decor items. They are often filled with knick knacks that might work for planting into, or making a grouping of similar items.
Rustic country garden decor can be almost any kind of garden related objects, displayed on your porch, or used as primitive accents in your home. 
Some of the many precious finds can be a collection of watering cans, terracotta plant pots, driftwood crafts or rustic garden signs made from salvaged barnboards, old mismatched garden chairs draped in vintage quilts or blankets on the covered porch of your tiny rustic cottage.
One of my favorite vignettes is the Eclectic Eggporeum, my rustic garden shed, with it's collection of bird-o-belia, collected over several years. 
Finally, I can display the bird cages, nests, wreaths and other vintage (and not so vintage) garden stuff.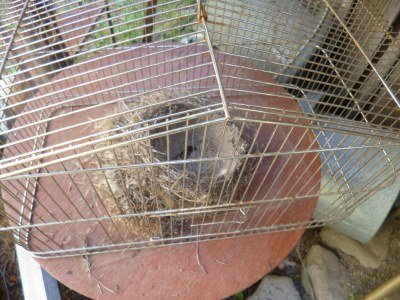 The patina and weathering of many old found items gives us so much pleasure, and it's comforting to gather these around us.
Dented, worn and distressed items from long ago, or not so long ago make us feel connected to the past in ways that new, shiny and plastic furnishings can't.
Garage sales can provide old furniture that can be a perfect project to try out rustic paint techniques, guilt free.
The raw materials for a focal point in your country look are right in your own backyard. You just need to dust off your imagination, and use some paint or other finish to add interesting rustic accents.
---
Punched tin is an old time method of making a design in something useful - the way the pioneers used to keep their pies and other baked goods safe from flies was to make a wooden 'pie safe' with a punched tin door. 
The flies couldn't get into the small holes, so the food stayed untouched.
The tin pie plate below will give an impression of what this would look like;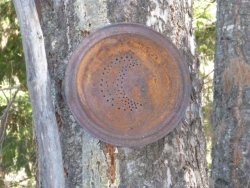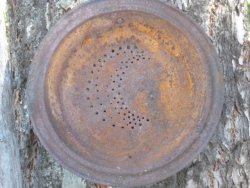 Other things to punch are tin can lanterns, such as those with a heart shaped motif.

---
A garden shed can be a fun diy project, using some plants from the garden center to accent the outdoor area, a well as some galvanized buckets or watering cans, a shepherd's hook to hang a wind chime off, and any other rustic piece that takes your fancy.
A rustic wagon filled with your favorite plants trailing over the edge makes a great statement piece that can be moved around. Your rustic patio in the country garden is the perfect place to relax and enjoy the outdoor space.
Junking is the art of finding new ways to use interesting artifacts and salvage. Cultivating your eye to spot these treasures at flea markets and garage sales and learning how to barter and bargain is a weekend pastime all through the summer months.
Junk gardening is a fun way of repurposing found salvaged objects into unique garden art.

Find out where the yard sales are in your neighborhood, or check publications like Craigslist or Kijiji for great deals.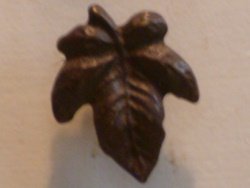 Handcrafted items will add an amazing authentic feel to your decorating. The country look is not complete without rag rugs, burl bowls or other treenware, and twig crafts.
The rustic lifestyle is embellished with artifacts, salvaged or made with natural materials, and handmade items close to hand.
Finding old furniture and flea market treasures, painting them in the shabby chic method and using old textiles to soften the look can be an effective and economical way to furnish your nest.

You will be amazed at how satisfying your forays will be when you make a great buy on a rustic old item for your rustic country garden décor.
Finding that absolute gem to add to your collection is a feeling like no other.
The trick is not to go overboard and become a hoarder. Only get things because they fit with your theme; those you are instantly attracted to.
Have your goal always in mind for what to look for, and grab it when you see it – don't be disappointed by taking too long to make up your mind and have the item snapped up from under you.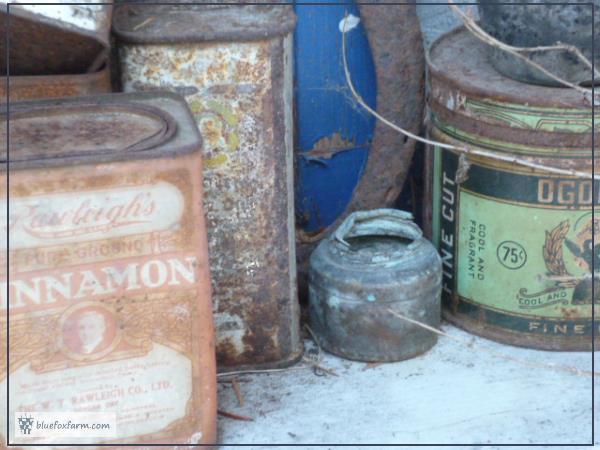 The collecting of featured pieces for your rustic country garden décor doesn't have to happen all at once; allow the pieces to settle in to the collection, and over time you'll find that it becomes a cohesive whole.
The aim is to have it look as though the pieces have been together a long time, just like in a country home.
Learn what it takes to be creative - we all have the gene but how do we develop it? Get the free guide!
Fill in the form below for your copy;
(Don't be disappointed - use an email address that will accept the free download - some .aol email addresses won't. 
If you don't see your download within a few minutes, try again with another email address - sorry for the bother.)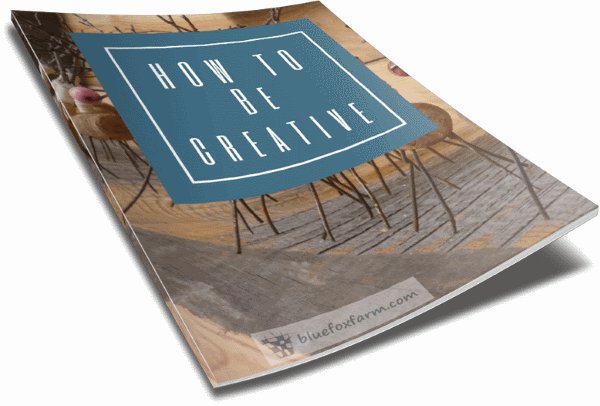 ---