Custom Search
Rusty Saw Table

Salvaged and Upcycled to make a unique garden vignette...

Jacki Cammidge is a participant in the Amazon Services LLC Associates Program, an affiliate advertising program designed to provide a means for sites to earn advertising fees by advertising and linking to amazon.com.
Who would have thought to use the old rusty saw blade as a table top?  It sits perfectly on the three legs made of cast iron salvaged from a bar table. 
The two combined are more than the sum of their parts.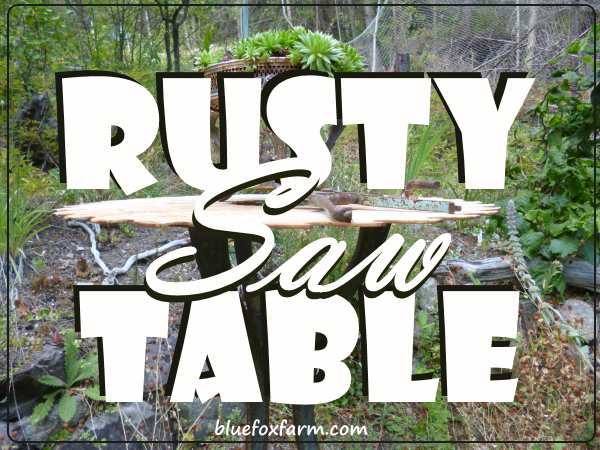 The saw blade was one of several that someone took to the recycle center.  Unfortunately, I was too short sighted to grab all of them, probably because they were painted. 
That was dumb. 
I've learned since that it's easy to remove unwanted paint and finishes off metal - just stick it into the bonfire for a while!

As if the saw blade and the legs together wasn't enough, the vintage garden tools accent and play off the colors in the table, and each other.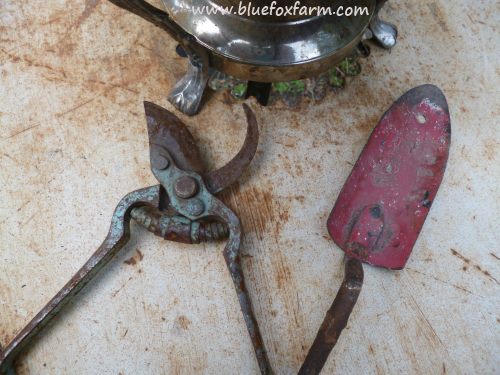 The base of the chafing dish is actually the lid, which is upside down and jammed into the bottom of the metal dish holder. 
Just goes to show, if something isn't working any more, redesign it into a funky garden accent - you'll be so glad you did.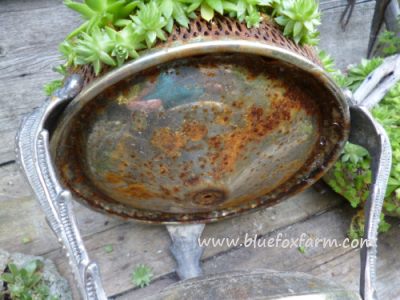 The plants are Jovibarba species, which make a nice low growing filling for the chafing dish, and they're just starting to bubble over the side.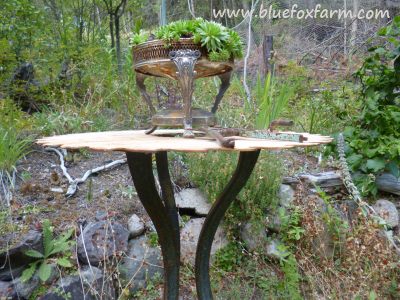 In a garden that tends to show it's stress at the end of a long summer without any water, it's nice to have little vignettes that are fresh and charming.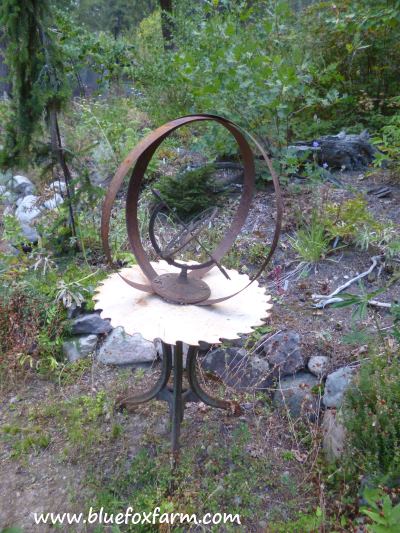 ...and for something completely different, a new incarnation with the armillary sphere.
---
Learn what it takes to be creative - we all have the gene but how do we develop it? Get the free guide! Fill in the form below for your copy; (Don't be disappointed - use an email address that will accept the free download - some .aol email addresses won't.  If you don't see your download within a few minutes, try again with another email address - sorry for the bother.)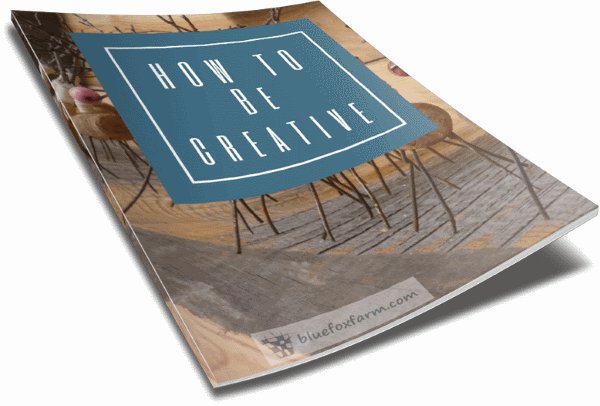 ---