Bent Twig Furniture

Just like the itinerant artisans used to make

Jacki Cammidge is a participant in the Amazon Services LLC Associates Program, an affiliate advertising program designed to provide a means for sites to earn advertising fees by advertising and linking to amazon.com. Other links on this site may lead to other affiliates that I'm involved with, at no extra cost to you.

Bent Twig Furniture has been around for a long time, since the time of the depression, when itinerant workers needed to make a few dollars and a meal. 
They would stop at the lodges in the eastern United States, and spend a few weeks creating some fabulous furniture to be enjoyed by those escaping from the cities on a holiday.

Imagine that lifestyle for a moment; you're totally broke, no money at all.  Dependent on hand outs at soup kitchens, and getting chased off by angry farmers and their dogs is a regular experience. 
Finding a way to make a few honest dollars must have been an extraordinary event. 
Their materials were free for the taking, and the tools they used were a simple knife to cut the branches, and a hammer and a few nails.  Some of the most spectacular examples were made without any metal; held together by strips of bark and jute, or pegged to hold the pieces in place.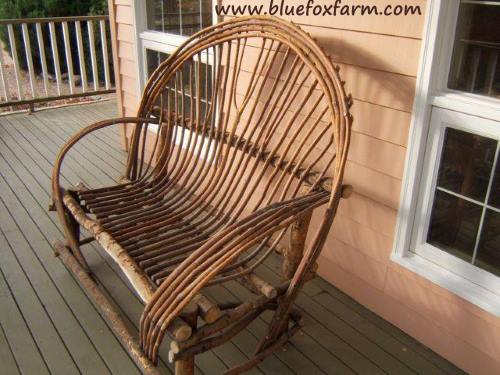 The most important thing when making any type of twig furniture is the selection of the right type of twig.  Some twigs like maple and birch snap, and won't bend unless they are first heated and steamed, then clamped into place in a jig.
Willow is the one kind of wood that will bend, with nothing more than gentle persuasion.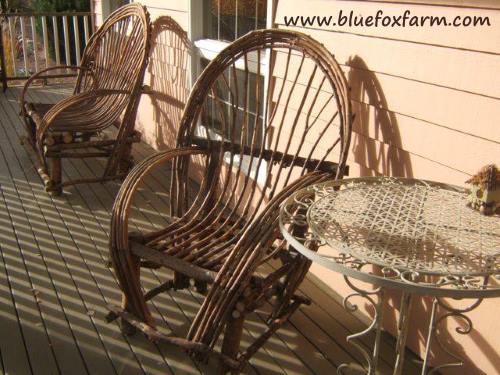 I usually use twist nails to attach the pieces, but some people have had great success with using drywall screws. 
These are black so they blend in with the twigs well, and, as an added bonus, you can take the pieces apart if one breaks.

The willow twigs start out green. As they age and dry out, they change to a rust or gold color, depending on the time of year they were harvested, how long they aged before use, and the type or species of Salix. Urethane or some kind of oil (linseed or tung oil) will protect your creation.
As always it's important to drill a pilot hole when working with twigs to prevent them splitting.  You can see more about twig techniques here or buy the book;

Learn how to build your very own
Rustic Furniture and Garden Crafts;
(Click on the picture and buy your download now)

Learn what it takes to be creative - we all have the gene but how do we develop it? Get the free guide!
Fill in the form below for your copy;
(Don't be disappointed - use an email address that will accept the free download - some .aol email addresses won't. 
If you don't see your download within a few minutes, try again with another email address - sorry for the bother.)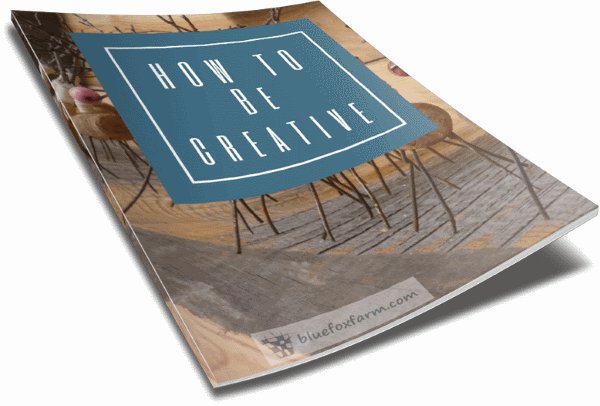 ---