Burlap Curtains

Potato Sack Repurposing

I love old potato sacks made out of jute or burlap, especially if they're printed with the name of the local grower.  They are rustic and even the smell reminds me of olden times.

But what on earth can you use them for?
I found a perfect use for the printed kind that potatoes or onions are shipped in; a burlap curtain for the Mercantile shack.  It's got a door with a window in it, which definitely lends itself to some kind of rustic decoration.
I took out the stitching from the sides of the burlap sack; this is easy, because they use a special sewing machine that makes a lock stitch; from one side, it's impossible to unravel without cutting every stitch, but if you persist, you'll find the right end to pull on and it comes apart easily.
So, now I have one larger piece, because they just fold a square piece in half and stitch one side and the bottom to make the sack.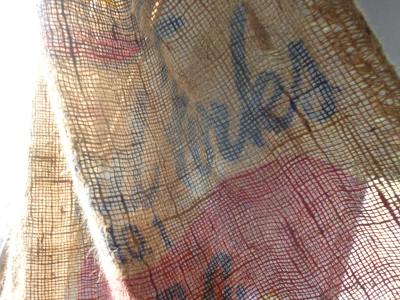 I washed it in cold water in a bucket, just to get most of the dust out of it.
Then I cut a length of tie wire longer than what I figured I needed - the width of the window, plus about 8" on each side to make sure there's enough to wind around the nails, and make a pig tail.
The wire was threaded through the cloth - carefully so as not to snag it.  Do this step before pig tailing one end - it's much easier before the wire is bent.
Two nails were carefully hammered in on the inside of the door, about 2" away from the window frame.
The ends of the wire were just wound around each one, pulling the wire tight, and there you go; rustic burlap curtains.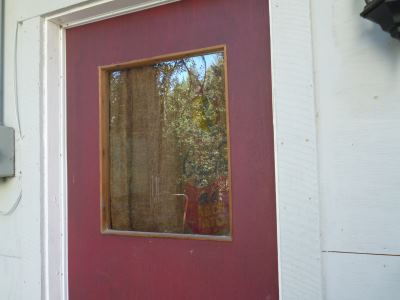 That's all there is to it; simple, hey? But now that door looks a little bare, doesn't it?  I may have to fix that with a weedy wreath and some copper wire stars...

Learn what it takes to be creative - we all have the gene but how do we develop it? Get the free guide!
Fill in the form below for your copy;
(Don't be disappointed - use an email address that will accept the free download - some .aol email addresses won't. 
If you don't see your download within a few minutes, try again with another email address - sorry for the bother.)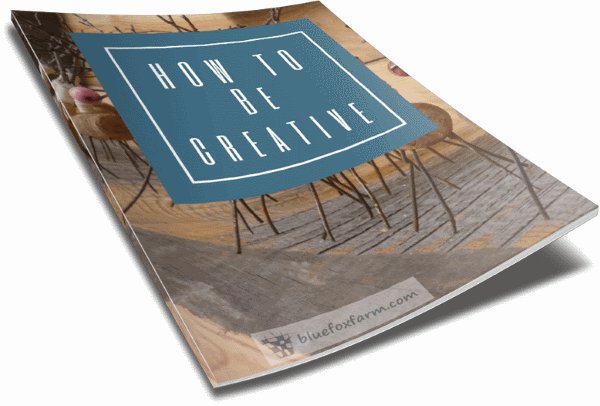 ---