January Tomatoes ... in Vermont?
by Daryle Thomas
(East Wallingford, VT)
It really isn't that hard to grow a salad indoors during freezing, snowy months. Your neighbors won't care if you build a greenhouse on the south side of where you live. Give them a head of lettuce, or a couple of cucumbers, or even a bunch of radishes. They might just leave you with a couple of venison steaks. Or a jug of maple syrup.

I am an Extension Master Gardener with UVM, have been for over 20 years. Last year I grew over 50 cucumbers in a planter that is 22 1/2 inches by 22 1/2 inches, in barely 9 inches of soil. It's on wheels. Big deal. The trick is the cucumber, a parthenocarpic, bitter-free critter. And, maybe the time of year you plant the seeds. It's probably not when you think!

Indoor tomatoes year around? Sure! They should also be parthenocarpic and indeterminate.

Use LED lighting or high output fluorescent. Learn to time them.

If and when spring comes, your asparagus will come in two flushes, a week or two apart. Can't grow that stuff in the city to begin with. You tell me how to make asparagus grow in staggered bursts, I'll tell you if you're right. I might even tell you how to make a simple device to create the mound to drape the roots over, when you plant the asparagus.

That head of lettuce in your grocer's produce aisle left the central valley of California, assuming CA hasn't completely dried out, in the back of a refer trailer. It hit break-bulk about 85 to 90 hours later. It showed up at your grocer's warehouse a day or two after that. The produce people trimed the dead leaves off and put it out under the thunderstorm/misting device, where you pick it up thinking it's fresh. We country folk don't really know much about that. If you cut summer lettuce, leaving a two-inch stump, it will grow back.

My name's Daryle. I live in Vermont. Yep, fairly rural. I'm on a first-name basis with the hens who lay the eggs I eat.


Learn what it takes to be creative - we all have the gene but how do we develop it? Get the free guide!
Fill in the form below for your copy;
(Don't be disappointed - use an email address that will accept the free download - some .aol email addresses won't. 
If you don't see your download within a few minutes, try again with another email address - sorry for the bother.)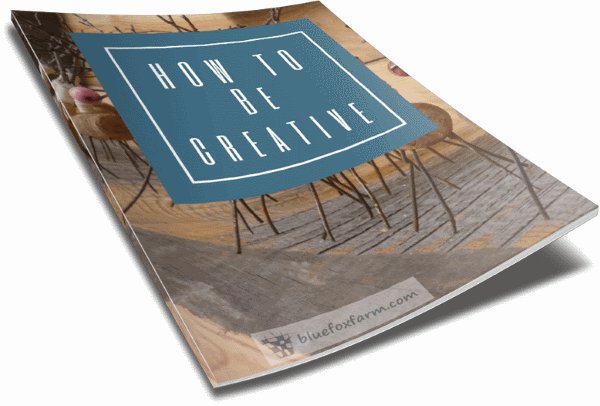 ---