Not sure what this is.
by Linda
(Jefferson, Ohio)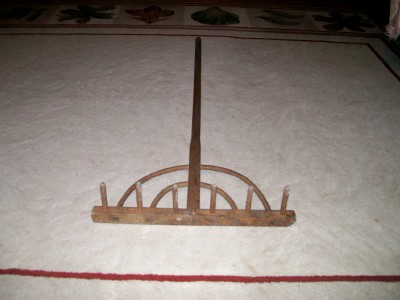 I bought out the contents of a potting shed and this was amongst the many treasures. My guess is,it's either a row maker or a rake for a really big Zen Garden. The other pictures are of just a few things I got from this potting shed. All this and more for 25.00! I feel like I struck gold!


Woman of Many Sticks reply:
Wow, good for you! I love getting lots of great stuff for a few bucks. What a great haul.

Your rake is particularly cool - I like your Zen garden idea. It is unusual in that the teeth are spaced so far apart. I'm sure you're right with the first idea - marking rows for vegetables. I can see it displayed hung on a rustic wall or in a collection of other antique garden tools.

What will you use the rest of the 'junque' for? I'm so partial to all the great stuff you picked up - especially enamel ware, those cool wire baskets and the wooden bucket. Oh, and the zinc buckets - lots of ideas happening here. I hope you'll post again with what you do with some of these!

Jacki


See more of Linda's Great Haul here.