Rustic Blue Paint

Country Classic, Primitive Favorite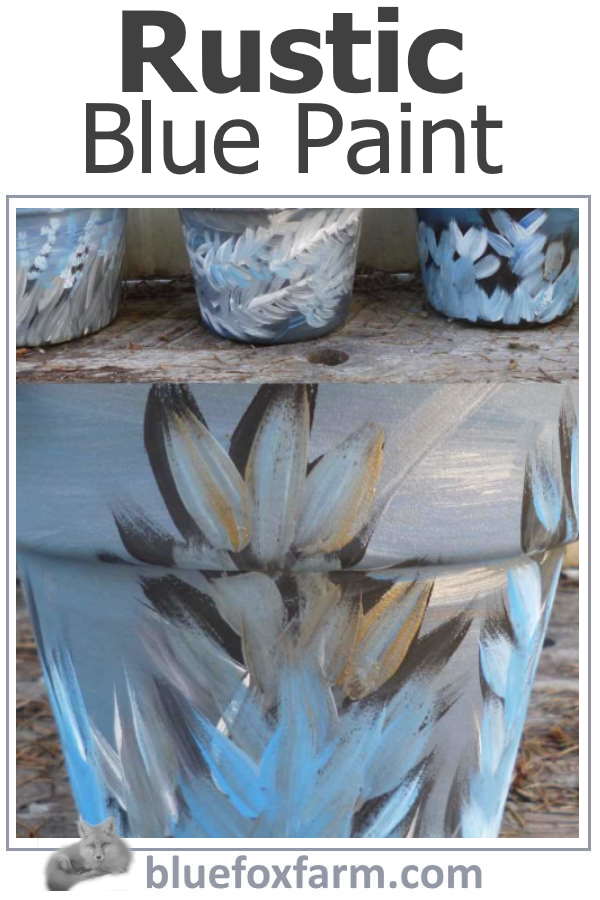 Rustic blue is one of my favorite colors; learning how to mix just the right tint is a steep learning curve, but I think I have it down to a science now.
I use primarily acrylic craft paints for all my crafts; they are easy to find in the dollar store or craft store, and rarely cost more than a buck or two each for a wide variety of colors. 
They come in many shades of blue, but sometimes, it still is not exactly the right color for a project.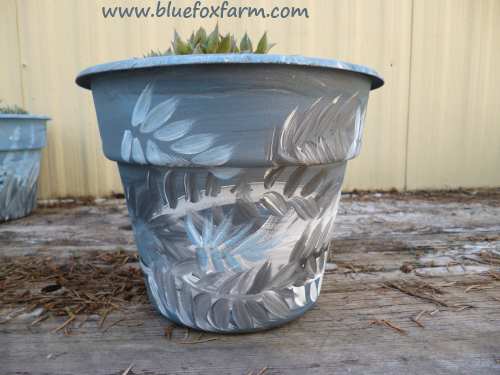 What do you do now?
How about mixing your own!  You can alter the hue and lightness of any color just by adding other colors; blue mixed with black will make a darker blue, with white it will be lighter.  Other colors such as brown will change it to a more muddy blue.
I mix many colors using the three primary colors which are blue, yellow and red.  Those three, with the addition of black and white will give you every color of the rainbow.
Old plastic pots make a great canvas.  Sand or clean with a scrubby to remove dirt, and also to rough up the surface.  These pots are pretty weathered, so they only need a quick scrub to take off dirt.
Mix up your base coat.  In this case, I used Sapphire Blue, black and a splash of Burnt Umber.
Resist the urge to mix it; allow it to blend on your brush, and on the item you are painting.  This gives it more texture and variance, instead of a homogenous color.
Make sure that you get all the edges, especially under rims, around the bottom and inside the rim at the top.  Try and cover the plastic completely, but if it happens that you miss a bit, you can always cover it with your second coat.
Let the first coat dry completely, where it will be safe from touching against its neighbor.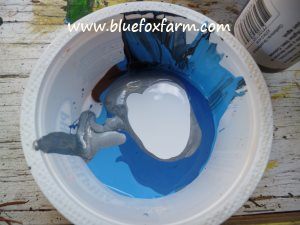 Some artisans claim that you must sand between coats; I don't do this on these types of projects, because it will leave scratches on the under layer, and in some cases, it will show.

Mixing the second coat is where you can go wild.  Here I have two kinds of blue, black, white and silver for a bit of sparkle.

Using my really basic design of leaves, sprays of grass, and sometimes twigs, I cover the outside of the pot, leaving a few areas without any additional paint so the first coat shows through.
The finished pots can be sprayed to painted with urethane for added protection, but I have some that survived the winter under snow and ice just fine.  It is up to you.
The occasional touch up might be needed if they get scuffed, but other than that, this blue paint is good to go.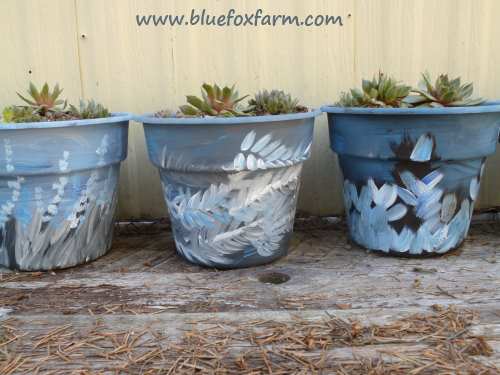 Astonishingly, this paint will stand up to all kinds of weather with almost no effect; They stay out all winter, plants and all...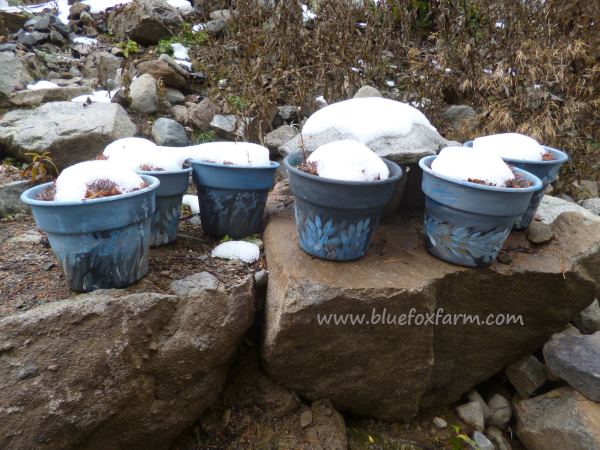 Occasionally, they get scuffed in places from handling, and then they get another coat over top to fix the damaged spots. Some of these pots have lasted several years, and look exactly the same now as the day they were painted.
Other items like painted doors also have a long lifespan. Garden signs are another place to use rustic blue paint to echo the sky.

Learn what it takes to be creative - we all have the gene but how do we develop it? Get the free guide!
Fill in the form below for your copy;
(Don't be disappointed - use an email address that will accept the free download - some .aol email addresses won't. 
If you don't see your download within a few minutes, try again with another email address - sorry for the bother.)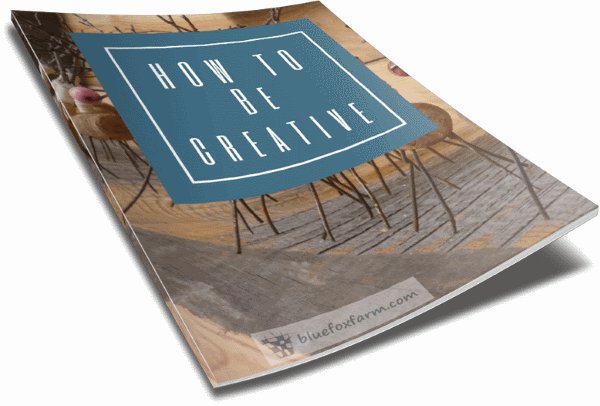 ---