Rustic Crafts Resources

Useful Pages and Products

Jacki Cammidge is a participant in the Amazon Services LLC Associates Program, an affiliate advertising program designed to provide a means for sites to earn advertising fees by advertising and linking to amazon.com. Other links on this site may lead to other affiliates that I'm involved with, at no extra cost to you.

It's all very well looking at tutorials and getting ideas, but when it comes to actually making a craft, there's nothing out there that pulls it all together with useful instructions and supplies to buy.

This resources list changes all that.  Here's the place with information on actually carrying out the instructions, and putting all that inspiration into practice.
The pages linked to here are more general in nature, delving into the whys and wherefores of getting the job done, and there are also valuable links to the most useful tools, products and essentials. Look to the right for all of these.

Under each heading are products from Amazon, geared to each particular craft.

Hypertufa
Here's what you'll need for many of the projects on this site - buy the supplies from Amazon; to make the regular recipe of hypertufa you'll need one part by volume of
Peat moss,
Perlite
and
Portland cement
Mix carefully and thoroughly (make sure you use a
dust mask
and
gloves
to protect yourself) then add the water to make a slurry or dough, depending on the project.
Mosaics and Tile Crafts

Here's a short list of my favorite kinds of glue for this project - buy them from Amazon here;
I've heard so much about
E6000 Craft Adhesive
that I absolutely have to try it. Although I haven't trialed it, other reputable crafters have, and given it the green light, so I've added it to the list.
Although I haven't tried it yet,
Amazing GOOP 160012 Automotive Adhesive
is on my list to test.
You may find your own favorite type of adhesive - share it in the comments below and I'll add it to the list.
As I've mentioned above,
Weldbond 8-50420 Universal Adhesive, 14.2 fl. oz.
is another favorite - you can buy this in smaller bottles, like with this link, or in gallon size - that's for the serious crafter!
This is the one I got (or similar) - it's a
Tile/Glass Cutting Pliers with Tungsten Carbide Cutting Wheel
which you use the wheel to score, and then break it along the line. The one I got says that it won't cut over 1/8th inch thick tiles, which could be an issue, as the plates I plan to use have thicker parts on them.
I saw the same type as this
Leponitt Mosaic Tile Cutters
which has two wheels - one day, I'll have both!
Twig and Barnboard Crafts

The biggest thing with any kind of twig or barnboard craft is that you need to cut them.  Here are a few options for tools to use.

A jigsaw with the ability to change the angle of the blade can cut wood like the barnboard pumpkins or cloud shaped signs. This selection from Amazon gives you a lot of options of which
jig saw
to spend your hard earned money on. A Skil saw like
this one
from Amazon is a good one to add to your tool kit.
Wire Techniques

My favorite kind of wire, for the ease in using it, and its flexibility, is tie wire. Usually this is used to tie rebar, but I've found it to be just the thing for all kinds of rustic crafts.
Buy
Black Tie Wire
from Amazon.
Paint Supplies and Techniques

Here are a few options from Amazon that will work for painting projects like garden signs and painted nesting boxes; first, the larger sized brushes for the base coats;
Loew Cornell 1170 Brush Set, White Nylon, 3-Pack
then for the finer details get something like this
Premium Painting Brush Set-12 Piece Golden Synthetic Hair, Short Wooden Handle Artist Paint Brushes for Acrylic, Oil, Watercolor Painting
.
I fortunately have a local dollar store that has a good selection of acrylic craft paint in many colors, but sometimes I have to buy them online, like this selection;
Apple Barrel Acrylic Paint Set, 18 Piece (2-Ounce), PROMOABI Best Selling Colors I
.
Then when it's all done, protect it with some of my favorite satin finish varathane.
Rust-Oleum Varathane Interior Crystal Clear Water-Based Poleurethane, Satin Finish
is my go-to finish. This will last for years, even outdoors.
What kind of glue is the best?  There is no one glue that will work for every purpose.  Find out what your options are.

As usual, I'll be constantly updating and adding to this resource list - check back often to find the best tools and supplies for your next rustic project.

Learn what it takes to be creative - we all have the gene but how do we develop it? Get the free guide!
Fill in the form below for your copy;
(Don't be disappointed - use an email address that will accept the free download - some .aol email addresses won't. 
If you don't see your download within a few minutes, try again with another email address - sorry for the bother.)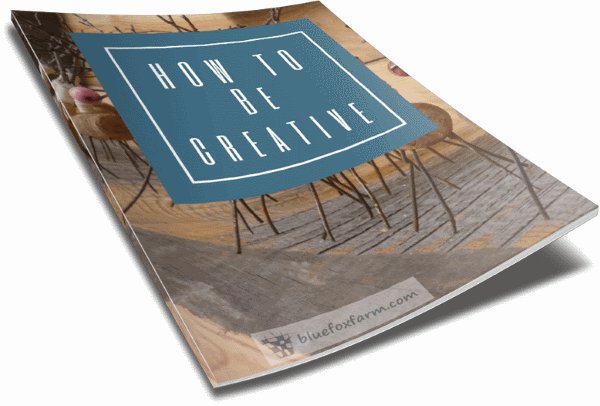 ---