Twig and Branch Reindeer

Rustic Christmas Garden Art

You've seen these; Twig and Branch Reindeer.  Here's a tutorial so you can make them yourself.

I've always wanted a herd of deer in my yard, and I don't mean real ones.  They only look good from a distance, plus they eat your garden. 
So the chance came when I had the wood, and the inspiration - these branchy deer are a perfect porch accent for the fall or winter - they look especially good used as part of your rustic porch decor for Christmas.

I used the top of a big poplar that fell in a windstorm last year.  The wood was dry, but not punky or rotten, so it was perfect for this craft.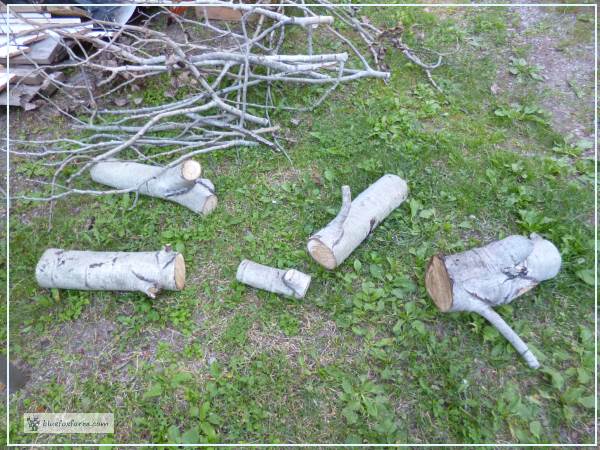 The pieces of your branch should be cut as follows for a reindeer about 17-24 inches tall.  The measurements are variable, so give yourself permission to change them to fit your branches and twigs.
I cut all these pieces with a simple folding pruning saw, but a bush saw would work too, for those who resist using power tools.

Body; 12-16" long - from the biggest diameter piece you have


Head; 8-10" long from a medium piece


Legs; 12-16" long from some more slender pieces - cut four of these


Neck; 5-6" long from the same thickness as the legs, or leave a well placed branch on the body part.


Antlers; two pieces of well branched thinner twigs

To attach them, drill holes in each piece, glue each end of a dowel and insert them into the legs and body.
Make sure that the drill bit is the same size as the dowels, or even a bit smaller so they will friction fit and not be too loose when assembled.

The legs should all be the same length, but using some crooks to simulate the hocks of a real deer will give it a life-like resemblance.

The antlers are inserted in drilled holes in the end of the piece you use for the head, with the twiggy ends hanging back over the body. 
In this example, the neck was formed from a twig that was left in place.

Brace the pieces until the glue dries, display your reindeer on a porch or in the garden; decorate with white fairy lights if desired.

Learn what it takes to be creative - we all have the gene but how do we develop it? Get the free guide!
Fill in the form below for your copy;
(Don't be disappointed - use an email address that will accept the free download - some .aol email addresses won't. 
If you don't see your download within a few minutes, try again with another email address - sorry for the bother.)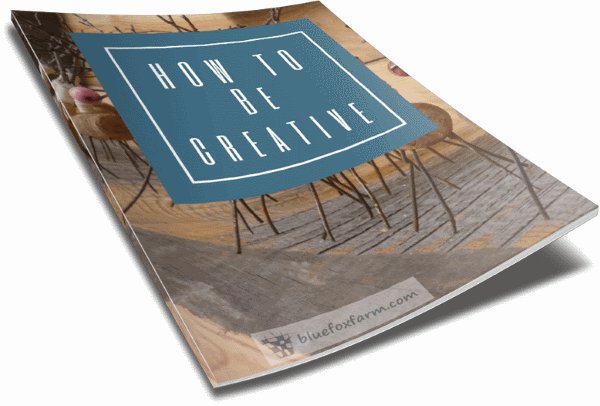 ---