Twig Lattice Fence

Make a Diagonal Lattice Fence from Twigs and Branches

Make a unique twig lattice fence by either pre-building panels and inserting them into spaced fence posts, or using the two wire method of fence building.
Then the lattice is built by attaching the diagonally crossing twigs to both wires. See the page on Wire Techniques for Crafts for some tips on how to recycle wire for this project.
See the pages on Twig Picket Fences and Twig Palisade Fences for some ideas of how to install the two horizontal wires. For twig lattice fences, instead of being upright, the twigs are place diagonally, and are attached together where they cross on the top and bottom wires.
For a more sturdy and less flexible option, nail or wire the pieces where they cross over each other.  The thicker the branches, the more abuse it will take.

You can also make twig lattice fences in panels, using larger branches to make a square or rectangular frame, with the smaller twigs attached diagonally.
This is a great technique to use to add some height to an existing fence.
Use the same measurements to make your lattice panels as the original fence, or split the measurement in two and make more than one twig lattice panel for each length.
A picture tells a thousand words – here is a picture essay on how to build a twig lattice panel:

Assembling the twigs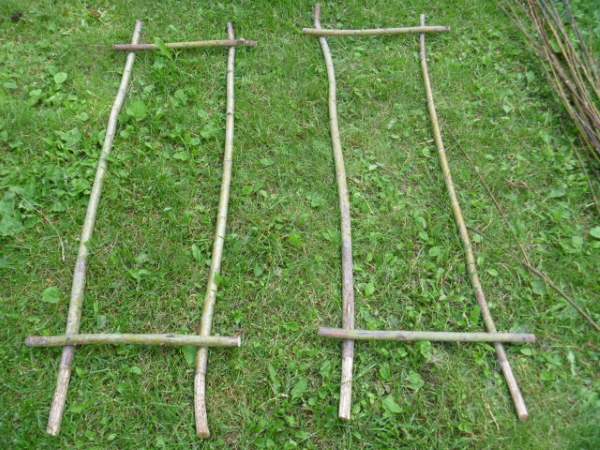 The layout of the frames
Cutting the diagonals
Spacing the diagonals...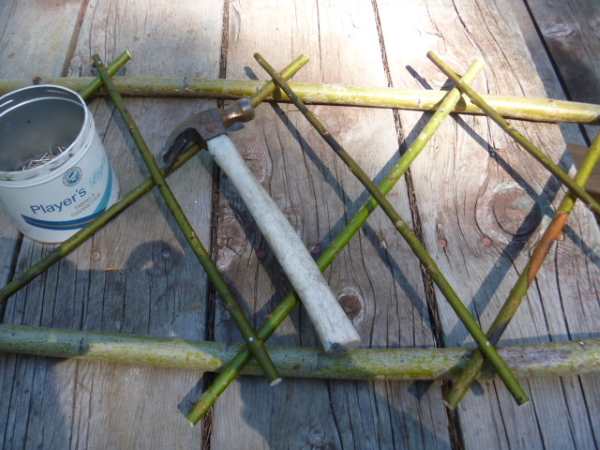 ...and nailing them in place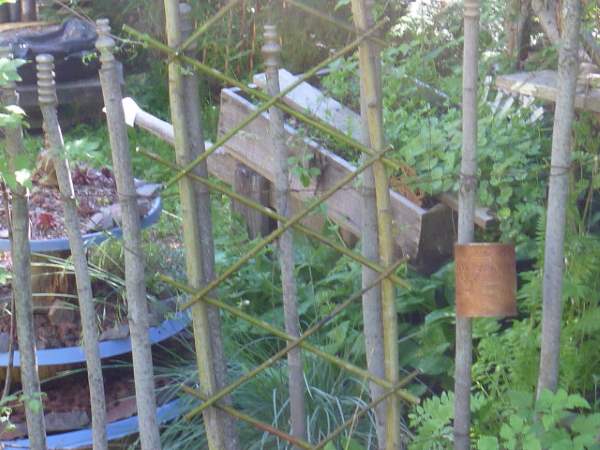 ...and finally, wiring the panel in place.
All twig fences are short lived - with care, they might last several years, so don't expect these to take the place of a more solid fence made of materials like treated wood or metal. 
The beauty of them is in their ephemeral nature.  Once they show too much weathering, or start to break down, build another one to take its place!

---
---
Learn what it takes to be creative - we all have the gene but how do we develop it? Get the free guide!
Fill in the form below for your copy;
(Don't be disappointed - use an email address that will accept the free download - some .aol email addresses won't. 
If you don't see your download within a few minutes, try again with another email address - sorry for the bother.)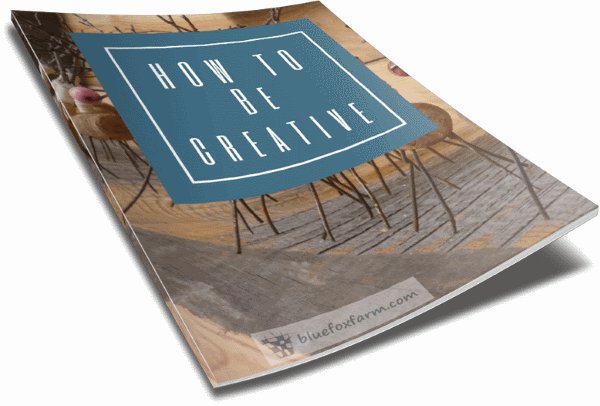 ---