Vintage Windows

Repurpose, reuse, reinvent

Jacki Cammidge is a participant in the Amazon Services LLC Associates Program, an affiliate advertising program designed to provide a means for sites to earn advertising fees by advertising and linking to amazon.com. Other links on this site may lead to other affiliates that I'm involved with, at no extra cost to you.

Vintage windows make the most amazing and charming crafts.
Crafty gardeners use them as succulent frames, filled with Sempervivum and hung vertically to show off the textures and colours of these fantastic plants.
They can be made into window box planters – a faux window with an attached planter box to show off Pelargoniums or other annual blooms, or simply as a back drop for a display of old time bottles and cans or outfitted with very rustic shutters.
The windows themselves are very cool in rustic displays, but they can also be the basis for lots of different crafts.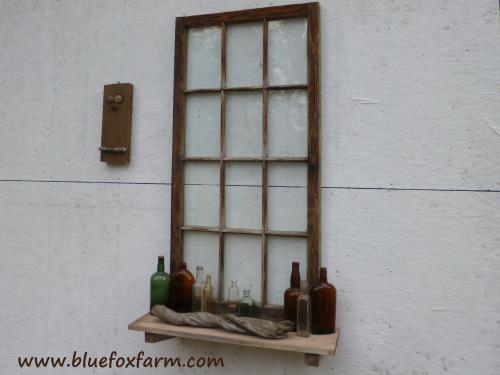 Old Window Vignette
They are also magnificent made into Wardian cases, a little greenhouse to grow ferns, Saintpaulia and other humidity loving plants.
Whatever you decide to use your salvaged vintage windows for, here are a few pointers.
Make sure that you double check that the putty used for installing the glass is solid; there's nothing worse than completing your craft, only to have the glass panes fall out. It's easy enough - although tedious - to apply new putty, but it's much easier to do it before you build.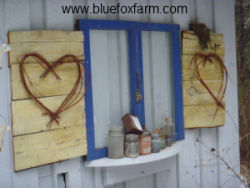 Vintage windows flanked by sweet twig hearts - what could be more rustic than that. The shutters are made from an old painted panel of tongue and groove wood, and the little shelf below the window displays some antique tins and glass items.
I use window putty which comes in a little jar, and very pliable. Apply it only in a warm area, as it won't work properly if it's too cold.
Check if you're going to hang the vintage window craft on a wall that the wood is not rotten where you plan to put hooks.
A vertical succulent planter will be heavy, so it may need extra security of running wire around the bottom just in case.
Vintage windows without glass can be used for succulent frames, by adding a couple of layers of dimension lumber to add some soil depth.
A piece of black plastic pea netting across the top of that, but under the window frame will prevent the soil and plants from washing out.
Make sure the plants are rooted firmly before hanging – in most cases, a month or maybe two will be adequate time.
I use the unrooted chicks of Sempervivum which will root through the plastic netting to hold it all in place. Carefully insert the stolon, or stem into the soil, or just set the unrooted chicks onto the surface of the soil; leave the window horizontal until the plants are firmly rooted before hanging it up.

Look for vintage windows with the original wavy old glass in wooden frames. The single panes of most old windows won't hold out the cold much – in modern times, double paned glass is the norm; luckily for us, the old vintage wooden windows are readily available to make into unique and interesting crafts.
I will also give extra points for a window with unusual or interesting catches or hardware.

---
What about if your frame only has screen? There's an idea for that too.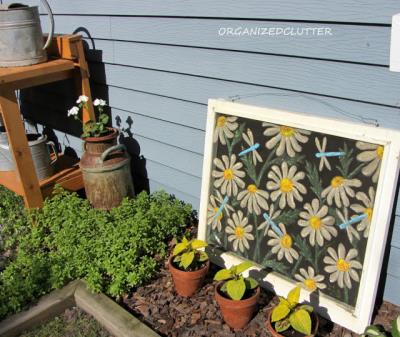 Organized Clutter brags up this painted window screen

Learn what it takes to be creative - we all have the gene but how do we develop it? Get the free guide!
Fill in the form below for your copy;
(Don't be disappointed - use an email address that will accept the free download - some .aol email addresses won't. 
If you don't see your download within a few minutes, try again with another email address - sorry for the bother.)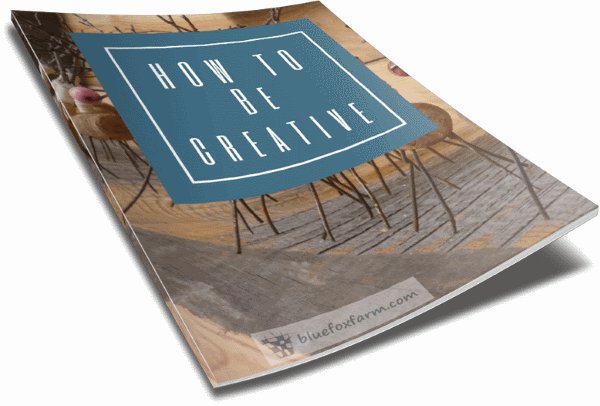 ---