Junk Gardening

Decorating your garden with found and salvaged items...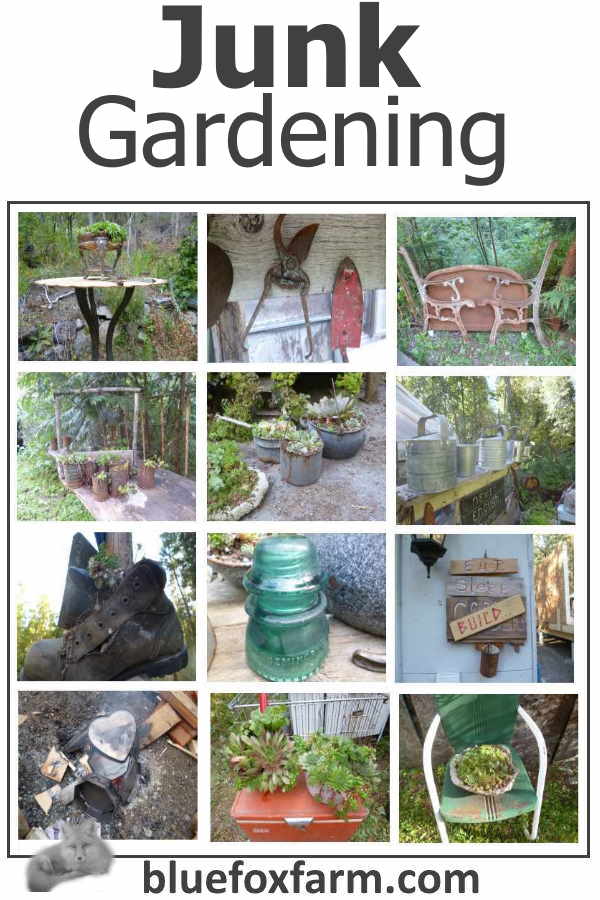 Once you start, you'll be hooked.  No longer will going to the mall or box stores thrill you; instead, you'll haunt garage sales, auctions and thrift stores. 

No farm will be safe from your prying, and you'll make your chauffeur roll his eyes every time he hears the words, Stop!  I want to go and look in that flea market/estate sale/junk shop.
Never mind; once he sees what can be done with a few old paint cans, some wire and a bit of driftwood, he won't mind a bit - especially when he finds out that it's either really cheap, or (even better) FREE! 
In time, he too may start to come home and announce that he has a present for you - it will be something from the recycle center, or that someone offered him when they cleaned out their garage.
Here are a few of the things that I've accumulated in exactly this way: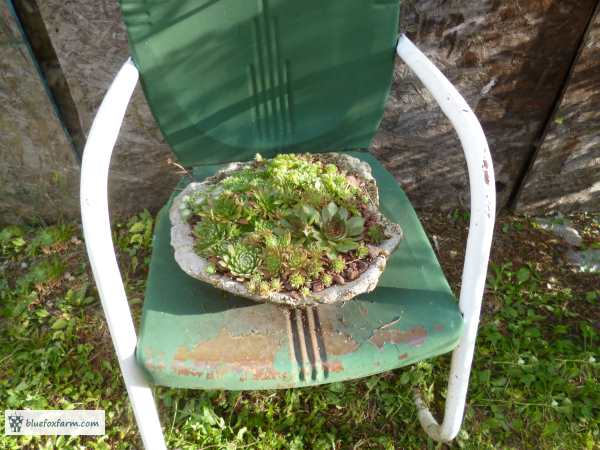 Rusty, green metal chair; what better place to display a hypertufa sag pot?
Chairs of all kinds are perfect in the garden as handy shelves for a display of pots and containers, or planted themselves.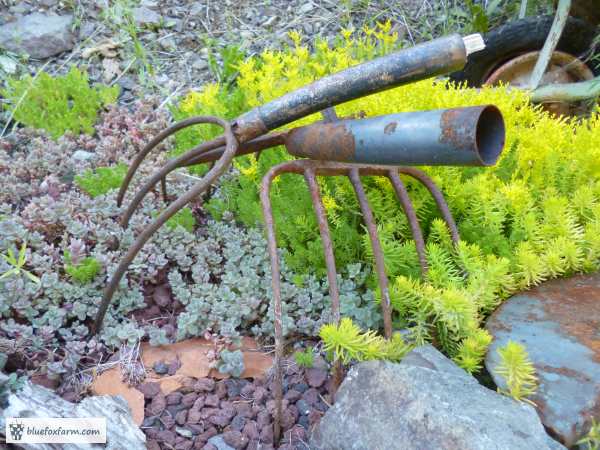 Protect a special plant or two with a fence of manure forks and pitchforks
It seems that everyone breaks the wooden handles of shovels and other tools; I bring them home, burn off the remaining wood, and use them in garden displays.
Sometimes they age more, and gain more patina while I'm cogitating on how to combine them with other items in a display, or as an accent in an existing garden. 
Sometimes they are perfect just the way they are.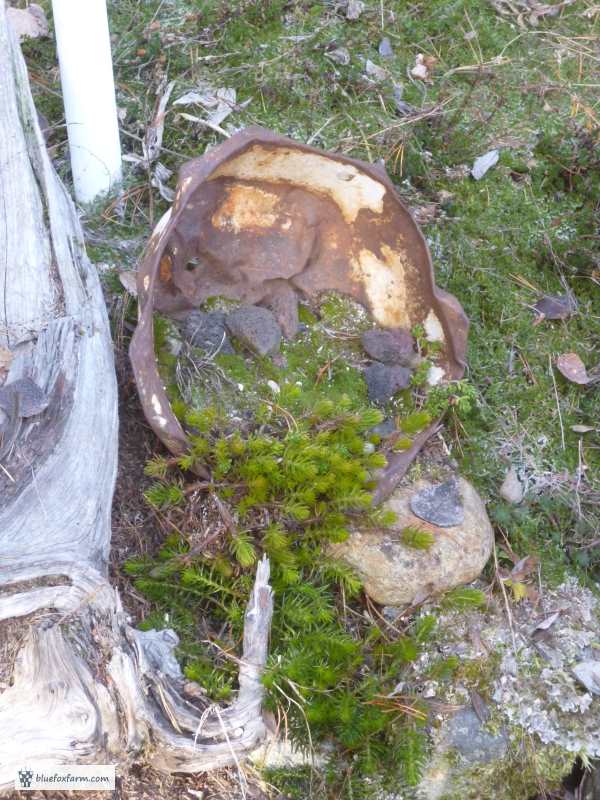 A cascade of Sedum gushes from a really rustic old enamel pan
Enamel ware, especially the vintage kind, is great for displaying succulents in; the older and more rusted and battered, the better.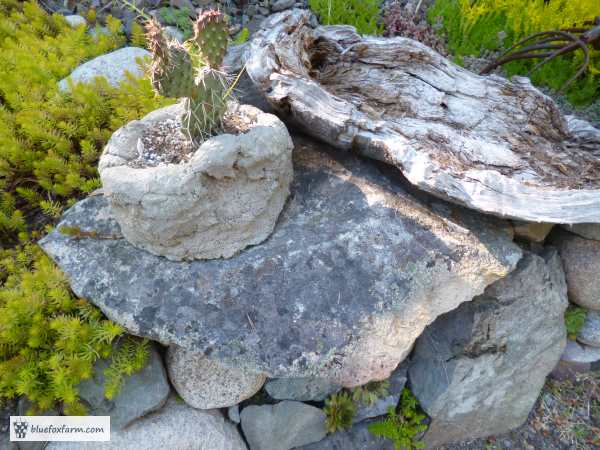 Lichen covered flat rock, a hypertufa pot with Opuntia 'Purple Pad' and driftwood
Vignettes of natural (or natural appearing) items make great little accents in a garden; sometimes, during a drought for instance, you need these bits of humor.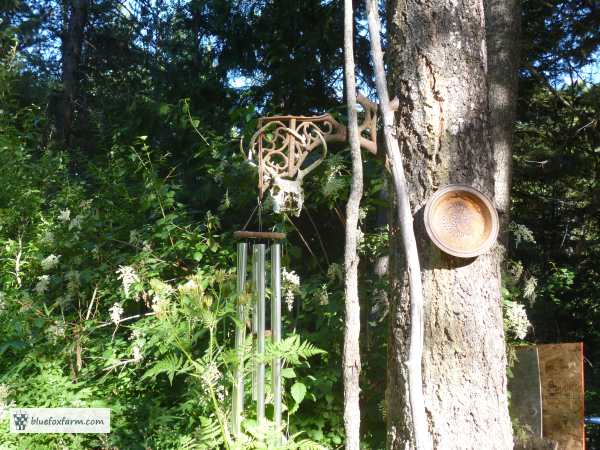 Cast metal school bench support makes a great hanger for the wind chimes
There are all kinds of bits and pieces out there in junk piles and out behind barns.  Find them and insert them into your junk garden.

Keep your eyes open at garage sales, auctions and whenever you spot a junk pile.  You never know when you'll see just the right old piece of junk.  Think outside the box...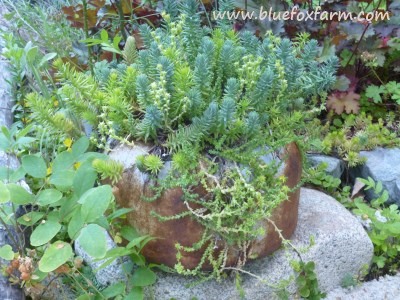 If it's rusty, like this kettle, there is only one use for it...
I spotted this rusted out kettle at the recycle center.  Just because someone couldn't see the potential, that doesn't mean you should pass them up.

Painted green, rusty, junk; just what the doctor ordered...
I'm a big fan of wheelbarrows, old watering cans and anything else garden themed.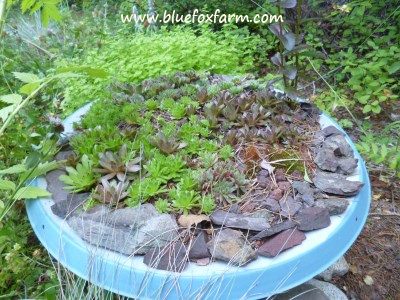 ...and my favorite blue painted satellite dish planters, with happy Sempervivum
I recommend that you shanghai lots of people to keep looking (and grabbing!) as much garden junk as they possibly can; there is no way one person can keep up with it all.
Happy Junking!

Learn what it takes to be creative - we all have the gene but how do we develop it? Get the free guide!
Fill in the form below for your copy;
(Don't be disappointed - use an email address that will accept the free download - some .aol email addresses won't. 
If you don't see your download within a few minutes, try again with another email address - sorry for the bother.)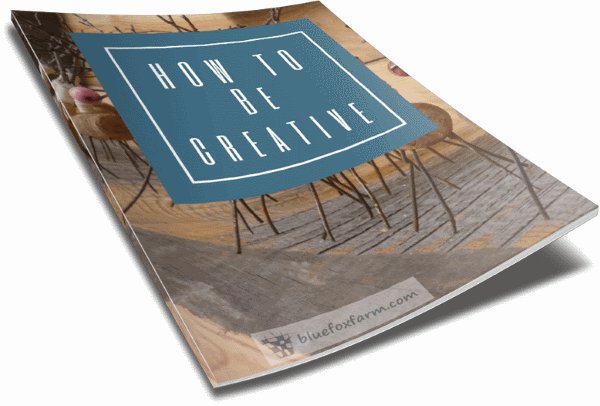 ---