Easy Rustic Projects
Jacki Cammidge is a participant in the Amazon Services LLC Associates Program, an affiliate advertising program designed to provide a means for sites to earn advertising fees by advertising and linking to amazon.com. Other links on this site may lead to other affiliates that I'm involved with, at no extra cost to you.

Rustic Crafts for the Less Crafty
Making rustic crafts should be fun, not work.
If you have the handy gene, so much the better, but don't worry if a tube of glue confounds you, or your idea of a difficult craft project is to hot glue some beads onto a cardboard box, these easy rustic projects are right up your alley.
Here are some easy twig projects that don't require an engineering degree or any fancy tools.
Simple twig craft tools, and even simpler twig craft techniques are all that's required.
And of course, some twigs.
Make a twig firewood tote to make bringing the winter fuel to the house easier.
What was once a messy dirty job can be much simpler and even fun with this easy project.
Gardening can reach new heights with twig obelisks, twig trellises, and twig tuteurs.
For those with a green thumb, get your twig crafting hat on.
Twig balls don't require any wire, or connecting techniques at all, just a good selection of long twigs.
Seed Crafts, including those using pine cones have been popular in elementary schools for innovative and beautiful art work for decades.

If you like making interesting folksy and primitive art projects for your garden try these easy rustic craft projects:
Garden totems made from beautiful old thrift store finds, garage sale treasures or simply out of date and packed away kitchen dishes add new colour and texture to your garden beds.
Making rain chains out of glass light fixtures is an easy rustic project which packs a lot of charm.
For something different and very rustic, make a tin can lantern out of recycled food cans.
Driftwood sculptures for your garden are shaped by nature, so there are no chisels or power tools to use here.
Your biggest task will be deciding where to showcase a root planter or a fantastically contorted piece of driftwood.
Make one or many of these projects, using long stored treasures salvaged from thrift stores or garage sales, or pruned off the apple tree, or collected in the forest while wildcrafting.
The whole idea behind rustic craft projects is to use what you have in innovative and imaginative ways.
Learn what it takes to be creative - we all have the gene but how do we develop it? Get the free guide!
Fill in the form below for your copy;
(Don't be disappointed - use an email address that will accept the free download - some .aol email addresses won't. 
If you don't see your download within a few minutes, try again with another email address - sorry for the bother.)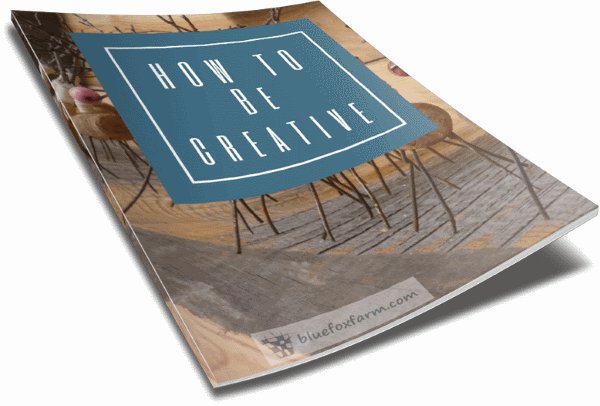 ---